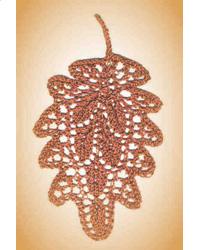 Here is a beautiful small lace piece in the shape of a leaf of the majestic Oak tree. This project is rated as "mindful knitting", i.e. it will take careful attention as there is little repetitiveness to the rows. But otherwise the knitter familiar with basic lace knitting can expect to have a fun knit with this pattern (and probably will not want to stop at making just one). We've seen these oak leaf medallions used in a variety of ways: small doilies, coasters, tasseled bookmarks, fall holiday decorations and appliqué embellishments.

Product Line:
Home Décor:
Craft Type:
SKU:
2368


Leaflet Style:
Four Page Leaflet
Project Size:
Size of your leaf will depend on needle and thread used.
Thread:
Guidelines in pattern for anywhere from #30 crochet thread to size 5 pearl cotton.
Knitting needles:
Size US 000 to US 3 depending on thread used (see pattern guidelines)
Stitch Patterns:
Both charted and written
To See Pricing and Place Orders
To Create a Retailer Account

Click Here to see shops where you can purchase this design!

Click Here to learn more about how your shop can work with ICG Crafts!